First off, a small introduction to Mr.Alan Robinson & Atajrubah 
Mr.Alan Robinson has been working on Atajrubah as the Developer and Programmer teamed up with Concept Artist, Environment Artist, Sound Designer/Engineer, Composer & Cultural Consultant. Alan Robinson is a Visual effect artist and Indie developer living in Capital of United Arab Emirates "Abu Dhabi" He started working on the game in February 2013.
How did you come up with such Idea & Why Exactly Middle-East?
I was getting into game development in and programming in 2012 . I've traveled to Asia and Africa and have learned a lot about the cultures there. Having lived here for a while I hadn't really explored the culture much myself. I thought it would make for a good setting. The games that people usually set in the middle east are war games and the like , I think it would make for a nice change.
It sounds kind of silly but before I got my licence in the free zone. I had to renew my visa at the border every month. The person taking me couldn't take the car though the border , so I would have to walk across the Meziyad border.
It was quiet and desolate with the occasional sound of camels. It felt adventurous and I often found myself whiling away the walk thinking about wandering off into the desert.
First I guess the physics required to worked upon since the physics of zombies are bit robotic?
Most definitely.Right now there's no root motion implemented so they're using my less than stellar animations. I'm definitely looking to bring an animator on board. I have a 4 camera iPi mocap setup that I'd like to use , just need to find some studio space to do a few sessions GPU. GPU intensive applications usually warm them up fairly quickly and this can lead to unwanted stutter.
Guess the video taken from the game is of beta version?
The video is has footage from the alpha , we want to get the game into online beta and build a community of players to help shape the experience.
Will Atajrubah be Naturalized?
I certain would like to have any Arabic dialogue in the game subtitled in English and vice versa.
So you mentioned dayz ad minecraft, how identical are those going to be?
I Really like the crafting , survival and exploration aspects of those games. These will form the core of Atajrubah but there won't be any voxel based sculpting or zombies.
The design going forward takes influences from the MENA region.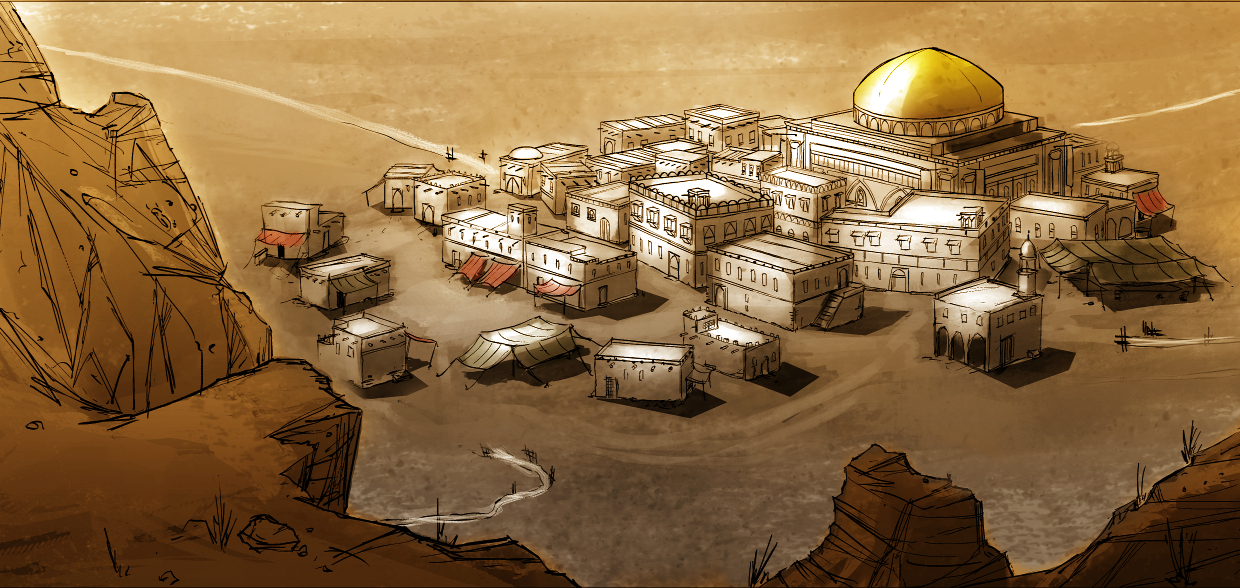 Can we expect Atajrubah making its way to Next-Generation Platform?
I made an application to Microsoft's developer program but they're only looking for established developers at the moment. I would love to see the game on Xbox One but I have a feeling that it may get on a steam box before that happens. I'm using UDK for development so it also depends on if EPIC change their licensing terms when there eventually release UDK4 .
I haven't even approached Sony yet , I'm still trying to find more information about their approach to Indies (outside of the well known established ones).
If people play the game I'm happy , I don't care what platform it's on as long as folks enjoy themselves.
Mr.Nexy tells about the system requirements on a comment
At the moment I would have to say, a system with 4-8 GB or Ram and not too much below a GTX 550TI.The Alpha's code isn't fully optimized yet so it could change. If you're using a laptop I would suggest that you get a Reasonable laptop cooler.
I guess the game should be able to stand out of crowd first..
Exactly , the game needs a lot of work as it stands. I spend a mad amount of time coding in unrealscript and there always seems to be more to learn (Laughs) Right , I really have to get some sleep.I've basically gotten 6 1/2 hours of sleep in 2 days getting the campaign ready It was super awesome to chat with you
Game Rekon would like to Thank you for your time & Hope for the Best for you and Atajrubah's Team. Gamers, you can also support this game on Indiegogo (Click here)