Battlefield 4 will launch in October as rumoured, and will be shortly followed by an expansion called Drone Strike.Electronic Boutique Games Australia leaked the release date of Battlefield 4 through pre-order poster from an EB Games store in Sydney.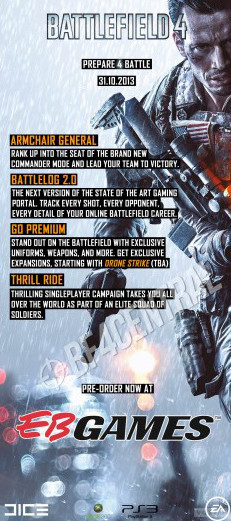 The release date, other details have also come to light through the promotional poster such as the confirmation of the highly requested Commander feature, as well as the existence of Battlefield 4 Premium, Battlelog 2.0 and DLC called Drone Strike.
Battlefield 4 is expected to release 31st October, 2013 for the Xbox 360, PS3 and PC.