A new year and a new installment of FIFA and again we ask ourselves the same question; what's different. Critically and commercially, FIFA 13 looks like it would dominate video games football for yet another year. At first it may seem like there's hardly a difference between FIFA 12 and the latest installment from EA, but play it a little longer and it becomes clear what this new installment has to offer. Slickness of the presentation continues to impress as adjustments have been made to add further texture and tactics to an already very good game. Last year defending was a focus for change with introduction of 'Tactical Defending' while FIFA 13 concentrates on improving your attacking options. The best change is FIRST TOUCH CONTROL, meaning players control the ball more realistically when it reaches their feet. FIFA has brought new divisions, over 500 new clubs and 15,000 new players. FIFA 13 is the first of the football franchises to embrace the Xbox 360 and PS3's motion control peripherals, with Microsoft Kinect and PlayStation Move support bundled in. FIFA 13 offers a more realistic game play than its predecessor.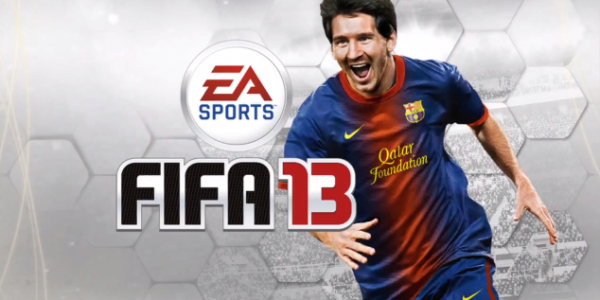 Gameplay
FIFA has made some new innovation to its game play by its key features;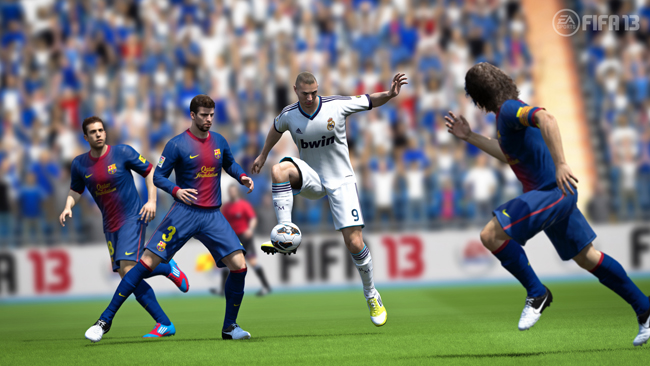 FIRST TOUCH CONTROL: A new system that eliminates near perfect control by creating uncertainty when receiving difficult passes, enabling defenders to capitalize on errant balls and poor touches. 'First Touches Control' takes into account player positioning, Speed of the pass, Weather and Individual player skill. As a result, every play feels reasonably risky, and none of your passes are certain to hit their mark to a point of predictability. Star players might be able to bring the ball down with their high level skills while running at full pelt, but try that with your average striker and its likely to bounce off their backside.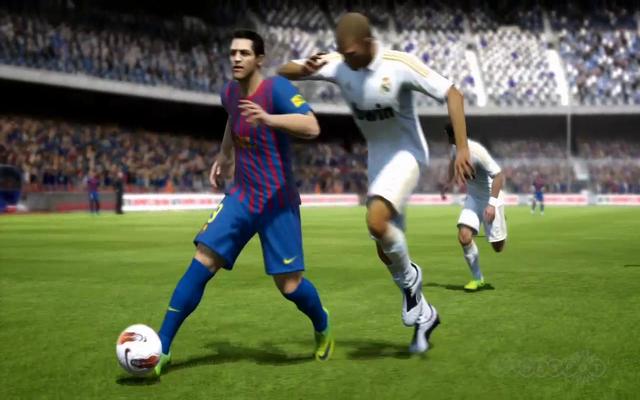 PLAYER IMPACT ENGINE: Player can now use there body to win possession. Push and pull has been an important part of defending, but the outcomes it has are always felt limited. Either you win the ball or more often than not you give away a free kick. The way they go about it will depends on things like their size or mass. You'll now have the ability to knock players off balance and you can now go as far as to strategically pull opponents down, even off the ball, but likely to get a card for it. A whole new suite of shots has been introduced specifically for when you're knocked off balance.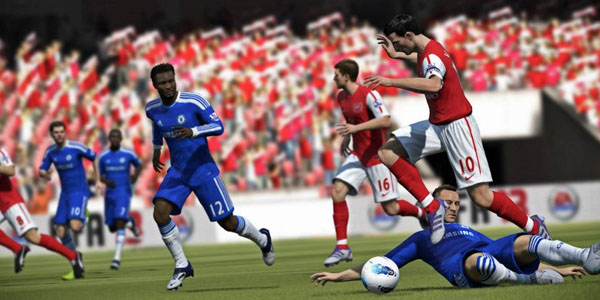 COMPLETE DRIBBLING: Take defenders with the freedom to be more creative in attack. The player have tighter control of the ball and more explosive acceleration with the ball, and perform precise dribble touches while facing a defender. Move with the ball in direction to dodge tackles, or turn and shield the ball, maintaining position and holding off defenders for longer stretches. This doesn't ensure that you will beat the player but used in the right context and it's a winner.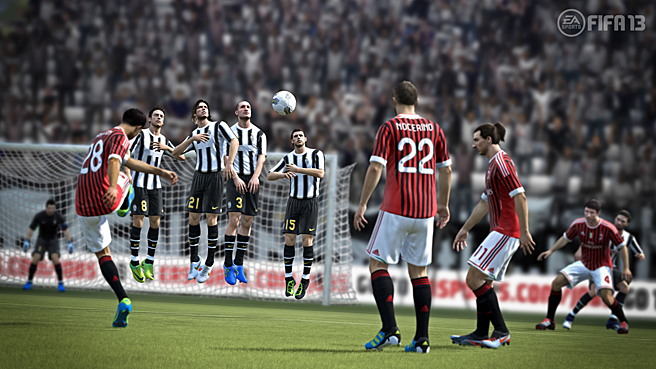 CREATIVE ATTACKING AND FREE-KICKS: Creates dangerous and unpredictable free kicks. Position up to three attacking player over the ball and confuse opponents with dummy runs, more passing options and more elaborate free kicks. Opponents can counter by adding or subtracting players to the wall, creeping the wall forward, or sending a bullet man to intercept the pass or block the shot. Two new passing options give players the ability to finesse passes over the outstretched leg of a defender or play lower trajectory lofted through balls into open spaces or to teammates.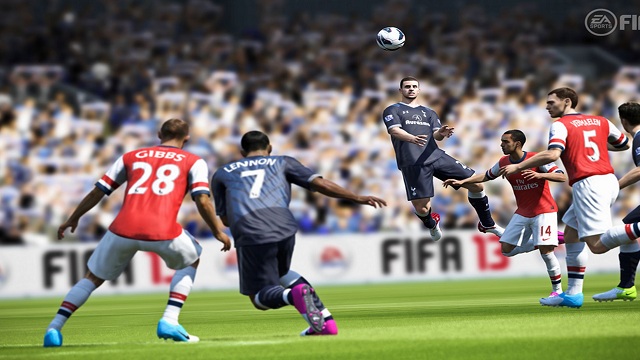 ATTACKING INTELLIGENCE: All new positioning intelligence infuses attacking players with the ability to analyse plays and to better position themselves and create new attacking opportunities. Players will work harder and smarter to break down defense, make runs that pull defenders out of position and open passing channels for teammates or run between defender and demand a pass to be played. Players possess an off-the-ball vision and the ability to think two plays ahead to create, curve or alter runs to capitalize on opening as they occur. This makes the game more exciting and open, letting you score goals that you simply couldn't before due to lack of movement.
Game Modes
1) KICK OFF: This is where you can play a quick game with your favorite team or battle your friend. You can now choose to play with or without Match Day activated by the click of a button. . While Match Day is activated Injured or suspended players, or those on international duty, are not listed in the squad, but remain eligible to play.
2) LIVE FIXTURES: Play along with your favorite team in real life. The next four games your team will play in real life are featured and ready to play. The form of your team and players, as well as injuries and suspensions, are reflected in game. Injured / Suspended or unavailable players are not available to be used.
3) GAMES OF THE WEEK: Five of the top upcoming real-world clashes are in the game and ready to play. The form of the teams and players, as well as injuries and suspensions, are reflected in game. Injured / Suspended players are not available to be used.
4) VIEW FORM: Real life players forms are updated weekly. Form data fed into the game includes player and team form, injuries, suspensions, league ranking.
5) PlayStation MOVE MATCH/Microsoft KINECT MATCH: Now you can play FIFA using Kinect or Move controller. You use your move or Kinect controller to move your player around the pitch and point to where they should be running, passing, shooting the ball.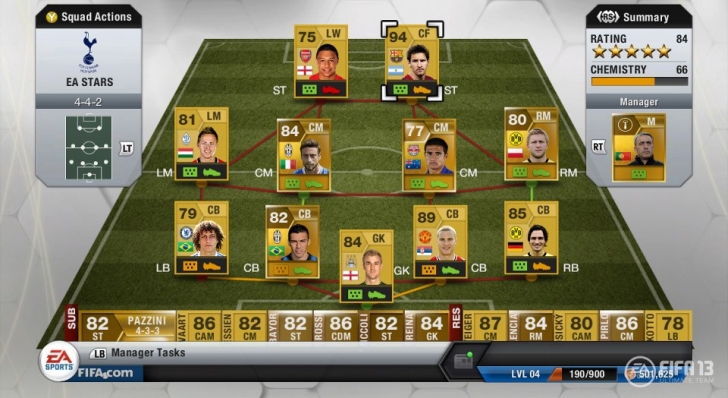 • ULTIMATE TEAM: Build your team ultimate team more than 8,000 players choose from, pick your style of play, preferred formation, kits, and much more. In FIFA Ultimate Team you have total control over your team. Trade and sign new players to enhance team chemistry. Take care of your players' morale and fitness and you get rewards for defeating your opponents. Compete against players from around the world in the massive online community. The reward FUT coins can be used to improve FUT coins can be used to improve your team. FUT Seasons allows you t2o compete on any level in Single Player and Online modes. BY winning games you can progress to the next division or lose matches and get relegated. You can by classic kits, new goal celebrations, licensed boots, pro-player upgrades and other desirable things with the XP you earn by playing matches which will help in other game modes.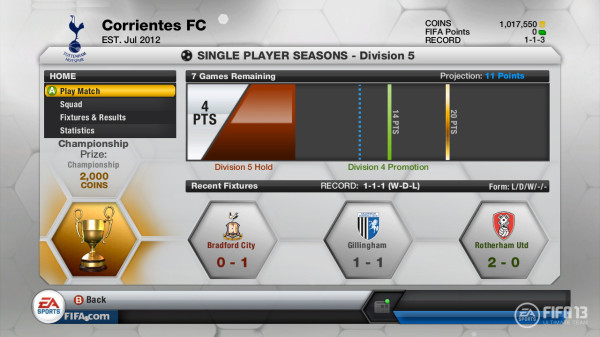 • SEASONS: FIFA 13 brings a far more iterative improvement to the table. An additional challenge is offered in the form of division titles, which reward you for not only passing the relegation and promotion thresholds, but for going that extra mile in a 10 match season. This time seasons has more divisions, titles and match options. Along with the Cups which can be won in the tournament style Cup matches, your trophies and league titles are now stored in the trophy cabinet. Your filter settings, team choice and management settings now save automatically, which will save gamers a ton of time. There are a number of Seasons related items. You can now buy an extra match, a free draw, or even a free win to help you on your way. You can only use them so many times, and they are fairly expensive, but using them combined could potentially allow you to win a division.
• MY FIFA 13:
1) FIFA 13 STORE: You can redeem your Pre-Order codes here, as well as purchase EA SPORTS Season Ticket and Creation Center entitlements.
2) REPLAY THEATRE: You can watch replays that you have saved during the match like goals, celebration, dribbles, etc.
3) FIFA 13 PROFILE: To update your profile or making any changes like Name, favourite club, rival club, etc.
4) CREDITS: Names of the people behind FIFA 13 and it innovations.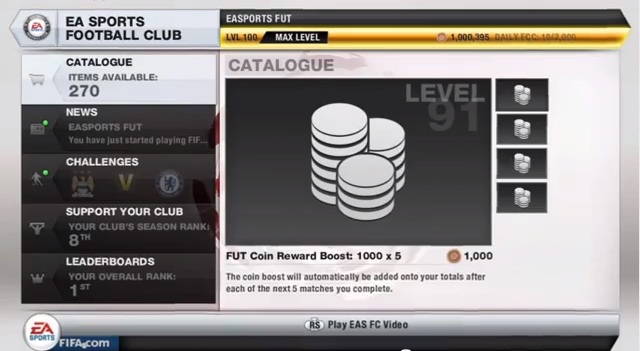 • EAS FC: You can access the EASFC Catalogue at any time and purchase hundreds of different items to enhance you game. Items range from historic kits, new boots and stat boost for your virtual pro. XP you win and earn can be transformed into rewards.
• SIGN IN TO EA: Sign in to EA to access the EA web and buy packages, boosters and rewards to help you in your game modes with real-life money using your credit card.
• CUSTOMISE FIFA:
1) SETTINGS: Change game settings, controls, video settings, audio settings etc.
2) CREATE PLAYER: Create your own customised player, edit his looks, abilities, country, position and more.
3) EDIT PLAYER: Edit existing players looks, country, club, playing style and more.
4) DELETE PLAYER: You can delete your create player or exiting player using this.
5) EDIT TEAMS: Edit your teams strips, formation, players roles, etc.
6) CREATION CENTRE: You can upload your created player or download other player, team and tournaments. You can edit the strips, sponsors on the shirt etc.
7) MY MUSIC AND CHANTS: Download and play your favourite songs for background sound while using FIFA 13.
1) TOURNAMENTS: Customise your own tournament, Cup or league. You can even customise name of the tournament, no of teams, teams in it, groups, prizes and the trophy.
2) BE A PRO (PLAYER): You play as a single player in a quick match. Feel what it is like to play as only a single player making quick runs, demanding passes and even helping in goals.
3) BE A PRO (GOALKEEPER): Play as a goalkeeper and not only do you have to save your net from goals but you can also help in the passing by telling where to pass from the box.
1) SELECT TEAM/PLAYER: Practice with the whole team or single player with the new training modes.
2) SKILL GAMES: Take part in skill games and practice passing, shooting, freekicks, and dribbling with the help of boxes, cones, poles, etc to increase your abilities.
3) PRACTICE AREA: You can practice shooting, freekicks, etc one on one with the goalkeeper and earn points for new moves.
4) INTERACTIVE TUTORIAL: This will help you understand what is skill games and how it is useful. It will show you how to practice and what items you can unlock.
1) PRO CLUBS SEASONS: Use your Pro and compete online in a 11v11 gameplay. Seasonal Play has been added to pro clubs season.
2) ONLINE FRIENDLIES: Compete online against friends and others teams with your team and get rewards.
3) CUSTOM GAMES: Play online with your team against a custom team. In a 1v1 gameplay.
4) MY FIFA 13 ONLINE: Access the FIFA website for updates, news, your FIFA ranking, competition, etc.
1) PLAYER MODE: Start as a young player for your club and work your way up through the football world, to start from a nobody to becoming a legend. You will eventually retire and can continue as a manager.
2) MANAGER MODE: As a Manager you must pick the best possible team by buying good player and selling underperforming player and choose the perfect tactics for your club. You must keep the players happy so that they perform well.
Our Verdict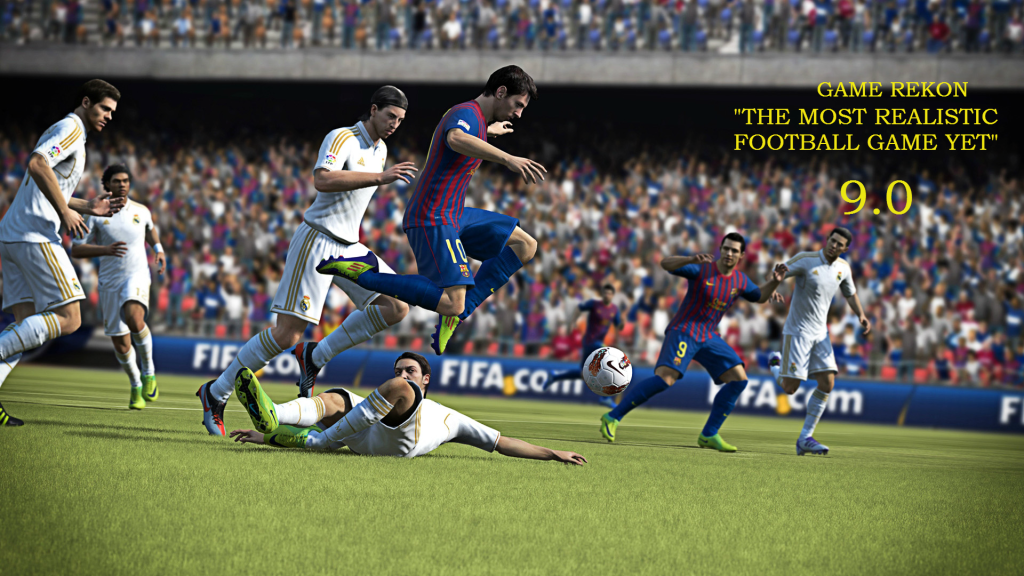 With the perfect combination of its unpredictability, attacking and defending tactics and attacking intelligence, 'Makes FIFA 13 the most realistic football game yet'. We give it a 9 out of 10