Forza Horizon is an open world racing game developed by Microsoft Studios, Turn 10, Playground Games which is so far a mind blowing sandbox style racing game of 2012. You cannot find a simulator like Authenticity in an open world racing game anywhere else. Forza Horizon also provides a variety of on road  and off road Races as well.
Forza Horizon is a new Concept which allows Forza Fans to enjoy an open world along with a real driving experience where you can control the cars with your own hands using Kinect,  Xbox 360 Motion-Wheel or Regular Xbox 360 Controller. It has a different set of views including my favorite Cockpit (Driver Seat) View which lets you enjoy the real taste of cars. Forza Horizon has also added new soundtrack functionality feature called "Horizon Radio Channels" which plays Techno, Hip-Hop and so forth. But you can always play your favorite songs by connecting your USB or to the Xbox.
Racing Events
Where you get money for appearance and car as reward if you win against your opponent (Ex: Mustang vs. Mustang) These events are important in order to increase your garage collection. You might not realize that you are winning or losing in this race so don't give up till you cross the finish line.
These are Common events in Horizon, Festival Events are found all over Colorado which are organized by a specific wristband color, You cannot enter with cars that are heavily tuned(High P.I) or are unsuitable for an event, for heavily tuned cars you can either pay 2-4,000 CR for Automatic Selection or Select another vehicle. In Dirt Races you may confuse with the style of Dirt 2, but it is better than Dirt 2.
You will be Challenged by the festival's best drivers, (Ex: Ramona Cravache's Ford SVT Raptor 150 or Ali Howard's Challenger) One of the toughest races but if you beat your rival, you can keep his or her Vehicle.
Challenge you're Friends or the Forza Universe, Each time you play a Rivals mode event you will find a ghost car to race against, beat the time to Gain respect and move up on Leader-boards. In addition, always keep checking for new challenges posted each month by Forza Horizon Community Team.
Not officially sanctioned by the Horizon Festival, but here you can experience Fast Cars, Fast races and Real Races. When you win all of street races in a hub, you can snap an awesome car for your Garage. These races are mostly progress based (sprint)
Navigation-Map (with Tips)
Outpost's (H Symbol appears in Navigation)
You have to discover Outposts throughout the City to use the Hub for Customizing or Changing the Vehicle, Fast Travelling costs several CR, if you like to save some Credit you have to Do some "PR Stunt's" which enable's discount on your fast travel to the particular outpost.
Dak's Garage Advertisement Board (Red Color Boards, also appeared on Navigation as Red dot)
Smash one board to get 1% Discount, smash all of them to get ultimate discount for customizing your Vehicle's Engine, Handling, and Appearance etc. you have to discover all by free roaming Colorado. Each time you hit one Board, a message will appear on HUD  – (1/100) 1 represents 1% Discount.
Speed Trap's (Yellow/Black Symbol appears in Navigation)
There are two types of Speed Traps in Colorado, One captures your speed on the spot and second is where you have to race (Approximately half a mile) till Double Speed Trap appears and then shows your speed very similar to Speed Challenges found in other racing games.
Barn Finding Rumor(Alice say's about New Barn Finding)
You have to find the Barn in near-by location, each barn has hidden classic car. There are 9 Barns in total.
 Cars– 1981 BMW M1, 1954 Mercedes-Benz 300SL Gullwing Coupe, 1992 Bugatti EB110 SS, 1964 Aston Martin DB5 Vantage,  1971 Plymouth Cuda 426 Hemi,  1956 Jaguar D-Type, 1965 Shelby Cobra Daytona, 1959 Aston Martin DBR1 and 1957 Ferrari 250 Testa Rossa.
Restoration– after Dak has restored the classic car, it will be available in any of Horizon Outpost or Horizon Festival Garage, Receive It to ride or customize it.
Authenticity and New Features
Vehicle Physics – so realistic, accelerating- Decelerating you can feel the Aerodynamics and Engine Force. Acceleration lifts vehicle's front section and Decelerating lifts the rear end of Vehicle, After Customizing Your Vehicle's Spoiler or Front-Rear Bumper you can feel changes in Vehicle Aerodynamics, Weight and Handling. Did you try Off Road?  You can feel bumpy Suspension, and this would be more interesting if it had more Large Off road tracks. Speaking about Gearshift, you can hear the sound of Gear Box and Gear Shifts clearly.  If you love Drifting, Then you will enjoy it because Forza Horizon lets you Drift with Different style and Rewards you with Popularity Ranking though you can see Driver's hand in action by controlling G-Force caused by Drifting.
Interior Authenticity (Upholstery) – Driving in day light? Did you notice the bright sun light falling on Steering Wheel? You can see Crispy Leather shining; you can expect the Dashboard and rest of Upholstery to be Highly Detailed.
Headlamps – Headlamps automatically start working when Sun goes down, and its very smooth as well as of different types. Neon and Regular Headlamp's which depends on Vehicle type, very realistic
Tire Grip Sound Effect – Starting with Tire Grip Sound effect, you can hear the sound of Rubber Burning on the track while drifting or off-road crisp and clear. Tire Grip has been highly detailed that when you are going 5-10 Km/h off-road you can hear the gravel smashing.
G-Force Effect (Steering) – We all know Open-World Racing games lack this level of Authenticity but in Forza Horizon you can see Driver's  Hands are feeling the G-force. You can see his Hands are actually shaking while controlling the Vehicle. Also, if you chose to customize your Vehicle's Rim (Wheel's) Choose Wisely, because choosing Heavy Weight Wheels can decrease Over all Handling rate due to its Weight.
Traffic Pass-by Effect – In real, you often hear the sound of cars that pass by. In Forza Horizon, Try focusing on Traffic Vehicles and slow yourself down, hear the effect. This was not expected because this is clearly called "Authentic". They Really Tried to get this Game as much as realistic as it can get.
GPS – You can set your Destination, and you will get voice activated guidance which is pretty annoying sometimes, has words like "Take a U-Turn when possible" which is very similar to Real GPS Systems. Try using Voice Enabled Kinect Feature with GPS, it is recommended but sometimes fun is better.
Radio Stations – Just gets better and better, this is a New Function to Forza Franchise where you can listen to Rock, Techno and Trance, or Indie Songs.  Best game has Best Music tracks. Horizon Rocks, Horizon Pulse, and Horizon Bass Arena are the Radio Stations which are In-Car Audio.
Day and Night Cycle and Active Headlamps – Day and Night Cycle, also a New Feature in Forza Franchise with Shiny Stars or Bright Sun . You can see Headlamps are Automatically Switched On or Switched Off.
Radar – Radar are found everywhere in Colorado which keeps the track of fastest speed in particular area so, get the fastest Speed to get yourself on top of leaderboard .Speaking of Radar realism it looks like actual Radar and has Actual Type of Flashings.
Environment – Beautiful Sceneries to spot with Real Ambient sound Like Waterfall, Bird's Chirping, Golf Park Irrigation system spraying water, Loud Music near Horizon Festival etc. Environment is beautifully designed with beautiful Sound Effects.
Characters – Detailed Character's like the Main Racer (You), Rivals, Supporters etc. Lip sync is pretty good as well as character Flexibility.
Photo Mode – something usual to forza series has good effects and you can use it to get your pictures online at forza online but only if you have Xbox live Gold.
 Racing-Roaming Style (*Bonus) – If you race with different style such as Drafting, Drifting, or Sketchy Passing you gain bonuses and popularity so, remember doing those fancy racing stuff to be Number  One in Colorado Horizon Racing Festival.
Auto Show – Buy or Sell Cars: Good collection of Car Manufacturer such as SSC Ultimate Aero, Lamborghini Aventador, Toyota Supra RZ, and Toyota Sprinter GT Apex Etc. and more to come via Digital Download.
Dak's Garage – Customize your Ride accordingly, has lot of Customizable car parts very similar to people who have played Forza before.
Showcase event: Fly-by effect – Every time a Mustang or Bi-plane passes above did you feel the vibrated effect, Pretty cool huh? If you have played Showcase Events like Mustang vs. Mustang or the stampede, you have noticed it is one of hard events if your Traction Control and Automatic Braking system is switched off. That might just cause extra problem.
Forza 4 Rewards – If you've played Forza 4, You will be rewarded with following Cars- Mini Cooper S, 2011 Citroen DS3 Racing, 1970 Ford Mustang Boss 429, 2012 Dodge Charger SRT-8.
What could have been better?
Driver and Steering Wheel – If you've noticed when you do the U-Turn or a Complete Turn, Driver does not Completely Turn the steering wheel which seems bit unrealistic.
Accidents – Hit a Civilian Car and you will realize that it is unrealistic. So this cannot affect game's rating? Of course Not, because this is not the only Open world racing game that has this error.
Performance and Virtual Damage (After Accidents) – No matter how hard you hit and your cars Hood is about to fly, nevertheless Performance is not affected, it is like you hit hard and you can accelerate again. Virtual Damage enhancement could have been better since your windshields have broken but headlamps are working fine.
Turbo Sound Effect – After you have installed Turbo, the Volume of Turbo is less audible. You can install Turbo in Dak's Garage.
Our Verdict on Forza Horizon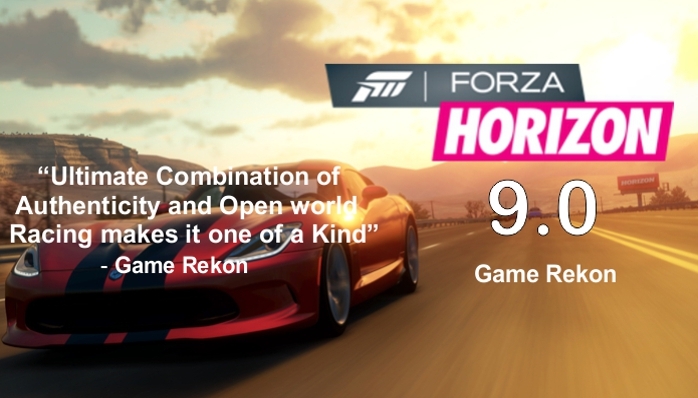 Great Authentic Open World Racing game which is so far the best Open-World Racing game for Car Simulator Junkie like me, I would say this Game should be tried by each and every one who love's racing and Cars.
Speaking about Single Player races, it was good combination of Racing and Good balance of Story as well and Multiplayer is something for those who love to play Open world Game with their Friends, for them Forza Horizon has to offer Free Roam, Co-op challenges which are objective based which requires Xbox Live Gold.
If you are thinking "what I should play with?" stick to the normal Xbox 360 Controller or you are going insane after few minutes when you are playing it with Steering wheel or Motion Steering.
And Of course how can I Not mention Smart glass! Do you own Tablet PC or Smart Phone? Try using this feature to set destinations for different places without Pausing the game.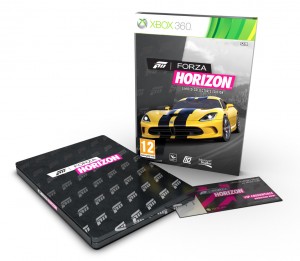 Limited Edition Content (79 USD)
Forza Themed Steel Book Case
Full Game CD
Launch Day Car Pack (5-car pack*)
VIP Membership (5-car pack* and VIP privileges)
Horizon Accelerator Token Pack – Giving player instant access to new cars, map unlocks, fast travel, and popularity spikes.
Exclusive LCE Car Liveries (5-car pack*)
You can get the limited Edition at Virgin Megastore in United Arab Emirates, Game in United Kingdom, and GameStop in USA.
We give it a 9/10 and Our Verdict on Forza Horizon "Ultimate Combination of Authenticity and Open-World Racing makes it one of a Kind"