In September 2012, Borderlands 2 released an extremely limited Ultimate Loot Chest Edition that included a physical chest based on the ones seen in the game. The set sold out almost immediately.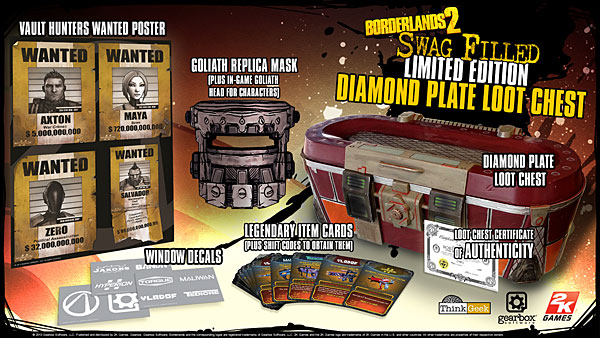 Today at PAX East, Gearbox announced that fans will soon have a second chance to purchase a Loot Chest at , Forbidden Planet and the Gearbox site.
The new chest will cost $99.99 (it does not include a copy of the game) and will be limited to 5,000 copies. It will be available in May and, unlike the chest seen in the collector's edition, has a diamond-plated paint scheme.
The Loot Chest will include 20 SHiFT codes for in-game legendary weapons scaled to your level, a replica Goliath mask that lets you redeem in-game Goliath heads for your characters, Vault Hunter wanted posters and more.