2K14 WWE, First the Preview session created an excitement and second the full version of 2K14 WWE which i can't get bored with. its been a month I have been playing 2K14 WWE and Yet there hasn't been a moment which I have not enjoyed except when the AI's gave me hard time and i was not able to make a progress, Indeed very natural.
2K Revived WWE Videogame Franchise
Preview versions indeed made me very excited because i was totally unable to beat Undertaker in the Wrestlemania mode but when I was able to defeat him in my couch and on my lucky controller [Of course. After over 20 tries!] also my first victim! [Evil Laugh: hahaha] you get the feeling of a complete video game entertainment which was kind of lost because few Videogames are just repeated every year with different titles thankfully! 2K14 WWE is not one of them but instead being a total work from scratch to make it one of a kind WWE Videogame. do you still not believe me? just head to nearest videogame retail store and give it a shot.
Once again, I would use the word that my Colleague Staff Reporter used in his preview of 2K14 WWE "Complete Entertainment Package" shall be used once again! because it is a Great game to Kill the time smoothly and being of a Family you don't have to worry about multiplayer or what if you are home alone? No worries mate, you got Wrestlemania mode to play through..Long Journey eh?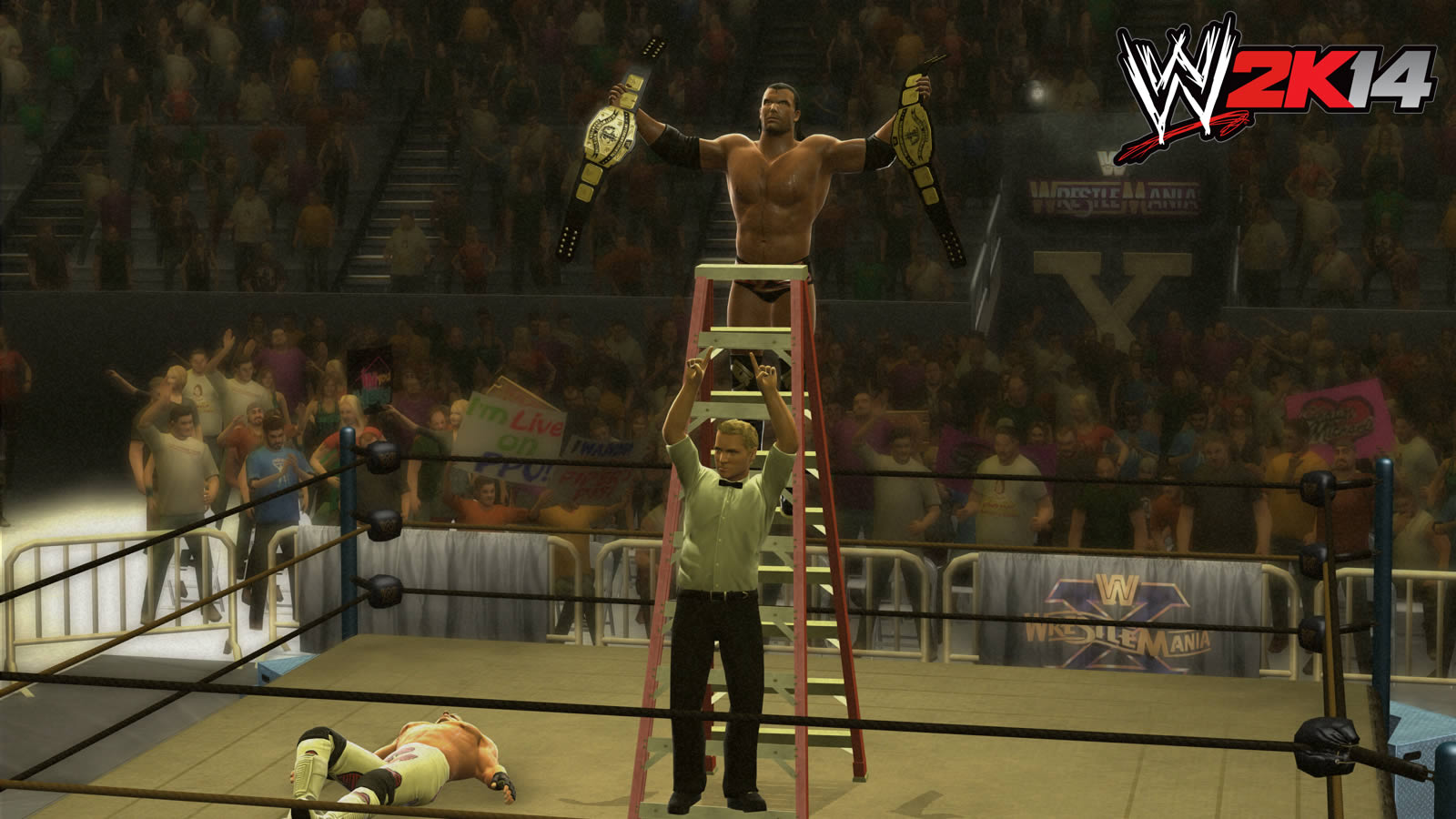 Various Wrestlemania moments takes you back to Vintage wrestling which makes it very 80's cinematic television, it means that your High Definition will be transformed to those Fat TVs with Black & White Noisy screen but it just does not get over there, Wrestler Attires are Vintage with that their signature moves for example Hogan and Andre the Giant's in-ring and entrance moves, Typical Bow-shirt Referee's, Ring Announcer voice, a few Memory stuck old matches in WWE History is playable which again is very authentic in terms of Mid-80's WWE, Crowd and Arena has the Vintage touch as well as the Metal Crowd Barricade.
Although, I would like to add couple of things that are awkward in my opinion "Bumping to each other!" It makes the Character bit inhuman'ish and more Mind controlled Humanoids and Few WWE Superstar/Divas need a Facelift because of their Face structure, its hard to make it look realistic but we can easily see the effort behind 2K14 WWE Team rather than that, It's hard to find any other flaws of the game. Just being Greedy but if we could hear Superstar's voice in-ring while playing Tag team or performing a Taunt could be a good add as well. I hope 2K will keep the Good work up!
To provide gamers a great game, it requires attention and focus of Developers, that is exactly what they paid attention to..they gave their best for this year as this was the first WWE Game by Take-Two Interactive aka 2K. I am not being biased but from a perspective of a Gamer-Journalist, THQ was repeating almost same game with different title/box art and small upgraded patch every year and I can also say that for the first year and this being done, WWE Videogame franchise is in safe hands and I am already excited for next year because 2K Games has never disappointed me [Personally speaking] with their Videogames such as 2K NBA..I have tried other Sport genre by 2K and I certainly suck at it but Hey! it was fun to play and see the authentic action.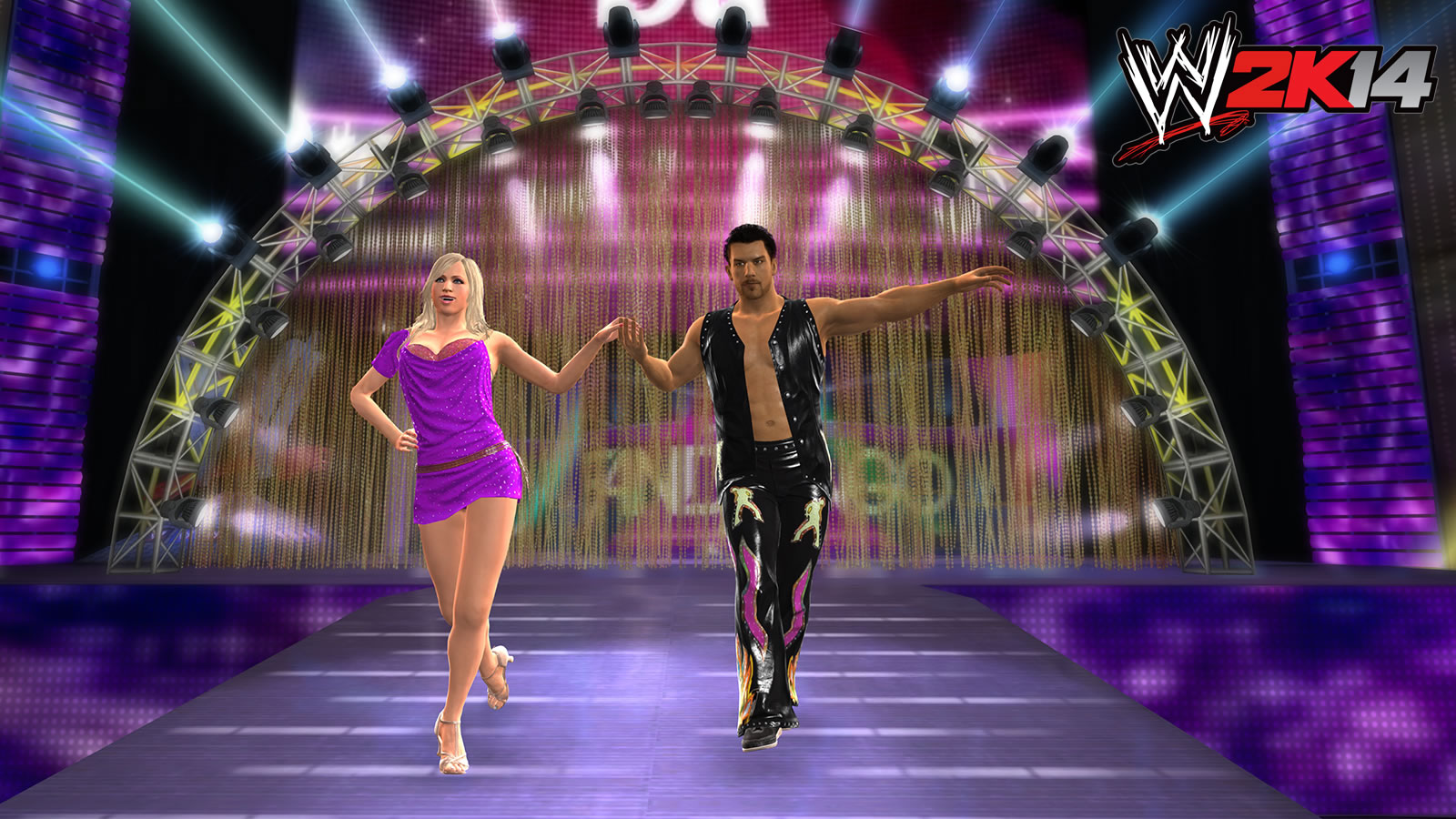 I certainly can't get tired typing about Wrestlemania mode, Cutscenes after Historic matches [God! how much time did they take gathering all the cutscenes] with information about Vintage rivalry between Superstars such as Ricky Steamboat, Andre the Giant, Hulk Hogan etc. is pretty good idea for all those who are Wrestling Rookies and unaware of past or Attitude Era in WWE.
For many years I was so desperate..Desperate for? with all due respect, Beating the hell out of Vince McMahon! First Downloadable content included Kevin Nash like Legends and other Great Wrestlers, I would recommend a Season pass because of whats' about to come is yet unseen..Big E Langston, Fandango, Brie and Nikki Bella and Summer rae [Summer rae will be free of charge] plus more than 30 In-ring fighting Moves that will be added via DLC. 2K14 WWE received few update patches but it was not that much of a big issue since the First release of Game, patches mainly were to prepare the game for upcoming DLCs.
I use my iPhone as my iPod to hear some of the wrestling entrance tunes but it seems i got a new alternative, 2k14 WWE' Jukebox has little more than I want in my playlist but it seems that the entrance tune library is just Fantas-tic! why? First, it has all versions of entrance tunes' only if there was an option to play the entrance video while playing the music, it would've been good addition although not so useful still bit geeky.
Verdict
Solid Content, I took Fairly much more time then required even though i was not able to post it any soon due to me having no computer which left me with one thing, that was playing 2K14 WWE and with that said, Honestly I did not lose any interest after playing for weeks! which proves quality of gameplay offered including the various ways of fighting AI's with your favourite WWE Superstar or Diva. Verdict will be short and clear, Complete version was much different from the Preview versions. It is Indeed the Best Videogame in WWE Franchise to the date and that being said "I Have played every single WWE Game from Day One and I am finally satisfied with everything that turned up in complete version.
2K14 WWE Preview – (Click Here)
Note: The Game was reviewed on PlayStation 3 and Apologize for Unorganised Review!