Spark at its best!  Played few games that did not bore me till the end, and Lost Planet 3 is one of them because of its story-telling part that I really admire whole over. This Review will be bit Unorganized..Not because I haven't slept for a while and I am running on Redbull, it's because of what should I write about this game.
What makes me say Lost Planet 3 is an amazing game?
Lost Planet 3 has better Storyline, One of the Best Game in Lost Planet series yet! Little-Bit of everything, in simple words Lost Planet 3 offers everything a High-Budget Hollywood Movie or Video Game can offer Viewer or Gamer but here's the hard truth "You can Interact with the Movie" [haha] Spark Unlimited has used magic wand that they were hiding from long time. A Complete Entertainment Package!
Does it Activate your Goosebumps?
Diplomatic answer [Maybe] Haven't slept for 20 hours, Playing it while full-on Monster Energy in a Dark room with Home theater system..Yes it did scare me on first few missions, I was getting hang of it after few missions and creature attack timings..So yes it all depends on how, where and when you are playing the game. AI gives out the best at Harder Difficulty[Not going to survive!]
Should a Rookie jump in boots of Jim Peyton?
Certainly Yes, Lost Planet 3 is suitable fore Gamers who have not yet played Lost Planet 1 & 2 even though you're going to miss some of fun in Lost Planet 3's Predecessor, Story begins with Jim Peyton who is a Protagonist of the Lost Planet 3..Takes you all the way from E.D.N III's new recruit to a Person who becomes a Pro in supporting the cause for his Family and Dear Earthlings!  Story solely explains you everything about Jim Peyton, So you are not confused with what goes on and what not. Story of Lost Planet is strongly on based on protagonist. Soldier! all you need to know is Peyton works for NEVEC, His wife loves him and You need to finish the game.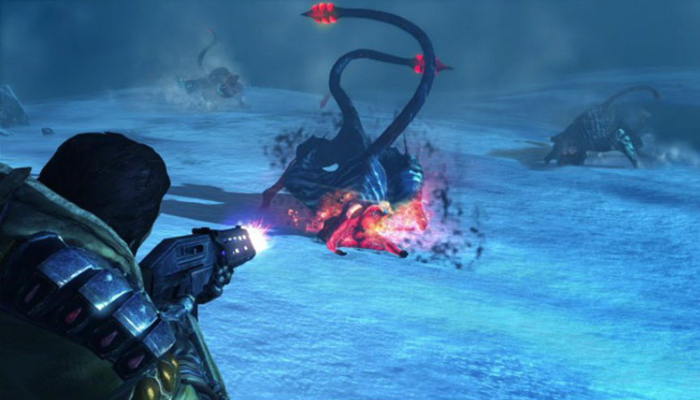 How about Gameplay experience with Amazing Story?
Speaking of overall Gameplay experience was really something that did not allow you to get bored, had somewhat entertainment let's say Peyton's Rig was rigged with Music Player! Sipping coffee, Killing bunch of creatures and listen to some music, In first few missions of Lost Planet 3 as a Protagonist you are limited in terms of Maneuverability, which was quite hesitating part and took a short time to understand how things work in the game but at some point you realize there is no Jump because of Suit that he is wearing [could be].
You enjoy killing at same time with low pulse, because you know this is going to get over and you are going to listen to some acoustic music soon. To be honest, Lost Planet has various kinds of Akrids that Jim Peyton could play a role of "Akrid Dundee" on TV Channel "Akrid Planet"
I Tried on All Difficulties but for some reason, I could not tolerate Hard Difficulty and took a short cut "Easy" so that, i would finish it off quickly..AI's work hard with all their akrid soul, If you feel you need to finish the game quickly and enjoy it at same time? I would recommend Medium Difficulty. Different creatures have different killing human powers, so always keep a track on the mini-map on right.
Environment felt kind of huge at some point, 
whole point of Lost Planet 3 was Storytelling, the part that amazed me because I did not see it coming Honestly, however I Felt the story went narrower towards end got bit uninteresting in the end but the Interesting set of objectives and missions helped the story live up the edge, I got an obvious question in mind which is "Do we really need movies?"
The work of Imagination with unforgiving Environment was perfect and suits the story exactly as it goes on, each object that were designed for the game are  fully used whole through story mode except bit large white spaces which annoyed me. Environment modelling would've been better..Rendering of Graphics were also no problem at all unlike few games i have played lately.
I Enjoyed aesthetics of Exterior and Interior of Rig, it looks like Team of Dev were little too involved in Rig blueprint. Mechanism movement with suitable sound made it more of authentic space game. believe it or not but small touches such as this makes it a better game only if it was weaponized unfortunately unlike VS mechs which were weaponized versions.
I am not sure of why people find this game dull rather than Very Entertaining-Story telling Adventure video game sequel to amazing series published by Capcom and developed by Spark unlimited.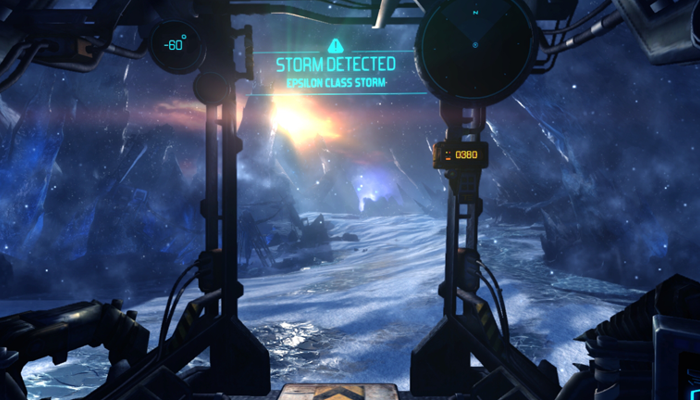 What Did I hear?
Playlists in Rig, Hell Yeah! Thank You Mrs.Peyton for an amazing playlist you saved on Rig that was really entertaining as well, but it did switch off during creature attacks that made things quite serious but once it gets over, back to music and rig riding.
Sound Effects plays a vital role in games such as this, and I can happily say that it has high level of detail in Rig Mechanisms, Creature sounds, kind of lacked a natural expression while characters have conversations but when it came to storm and ice breaking effects, works just fine!
Moving on to Final Thoughts! 
Note: The Game was reviewed on PlayStation 3