It's short, don't expect a lot as I always say "If its fun, entertaining..Every single second's worth it" easy to reckon a Kojima written & produced game from its appeal and time utilizing story's but this Ground Zero is more of a Anticipating trailer of Phantom Pain as actual movie yet to release.
Story & Gameplay
The Beginning of game is not typically a Metal Gear way, starts with intro of United States army, Skullface having a conversation with a prisoner..Skullface is not just a name but his face actually resembles Jason "the famous horror movie murderer" the narration begins just right after the conversation with prisoner ends. the music that starts is pretty annoying. UH1's take off and that's when our hero and protagonist "Snake aka Big Boss" kicks in, sorry! Climbs up the hill.
Saving Captured allies was the main aim of the game especially Paz 'Double agent' who the story's actual twist relies on, how so? Paz is secretly kept hanging with shackles, you save her after saving Chico but saving her was part of the plan unaware of C4 Planted in her body considering they took one out but later, as the story follows..she says "there was one more planted in my..Boom! explodes leading the chopper the snake's in to crash" makes me wonder, what's next but! what remains is side-ops mission not the story since it will be continued in Phantom Pain.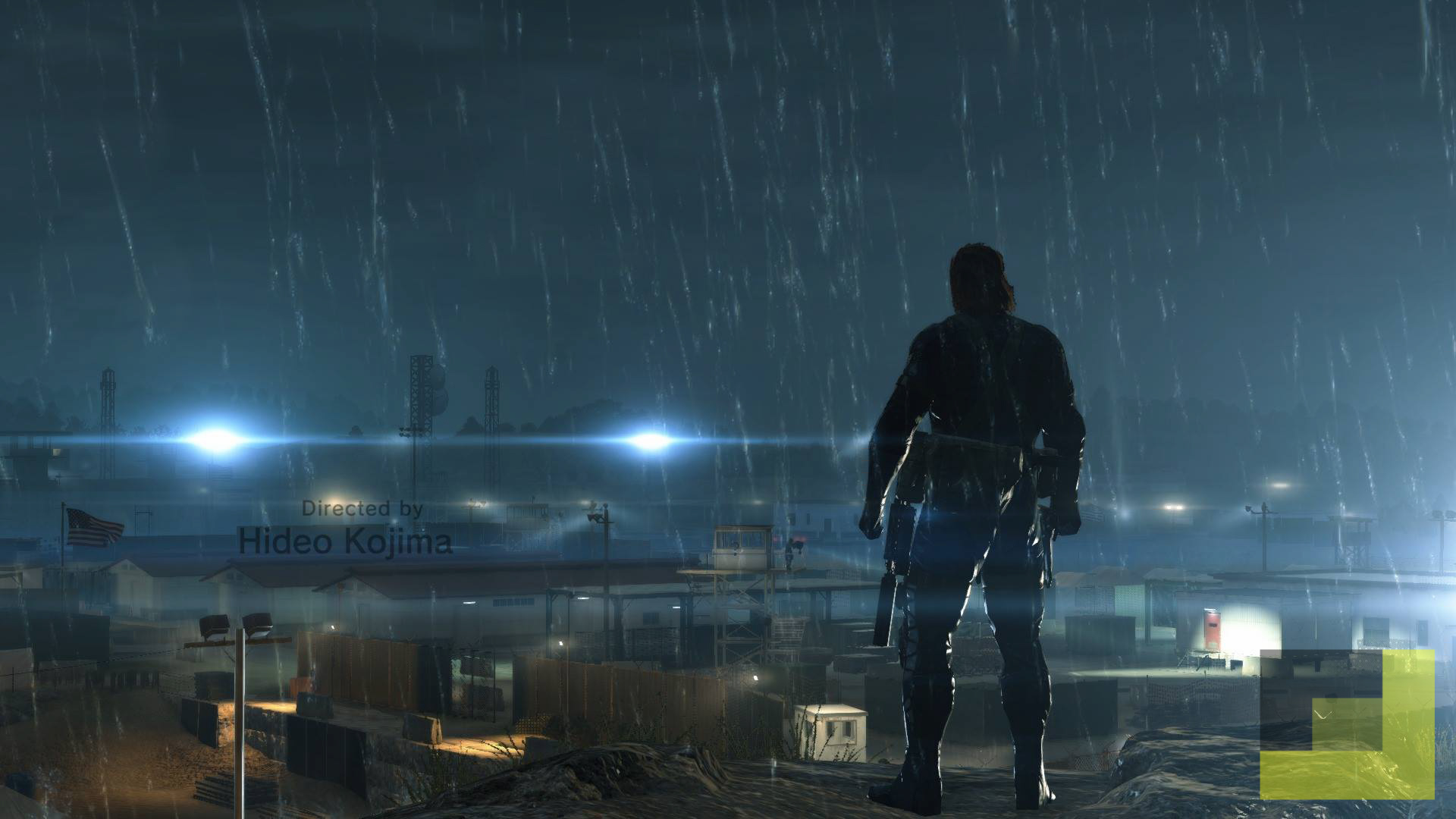 Moreover, the main story might be just for 15-20 minutes but the game does not end just there, could try in Hard difficulty and followed by other side-ops mission which includes Silent kills (no fooling around) in middle of the day where light & shadow is your enemy.. side-ops mission and main story all together takes about 2 and half hours to complete.
The story took 30 mins for me to complete since I got lost playing with APC's, Anti-Air and Armored Trucks..The Actual story is just 15 minutes long, the game sets your mind anticipating for next MGS "Phantom Pain" it will feature Snake's Left-arm less version along him waking up from coma after nine years.
Authenticity
Logical behaviour of A.I's have been mastered, Kojima San surely knows how to add human behaviour in an Videogame and make it feel more of a natural and real situation alike. A.I's honestly satisfied me when it comes to their thinking & the Authentic movements. I would definitely include Surveillance camera's in A.I list certainly, If Surveillance camera is down because you have shot it for one of the reason such as "I must not alert them!" however, A.I is smart enough to know that there's something wrong and if you somewhere up of the building..their eyes will still hunt you down, When Kojima San develops a game..He sure knows how to leave a great level of Kojima Trace along with it.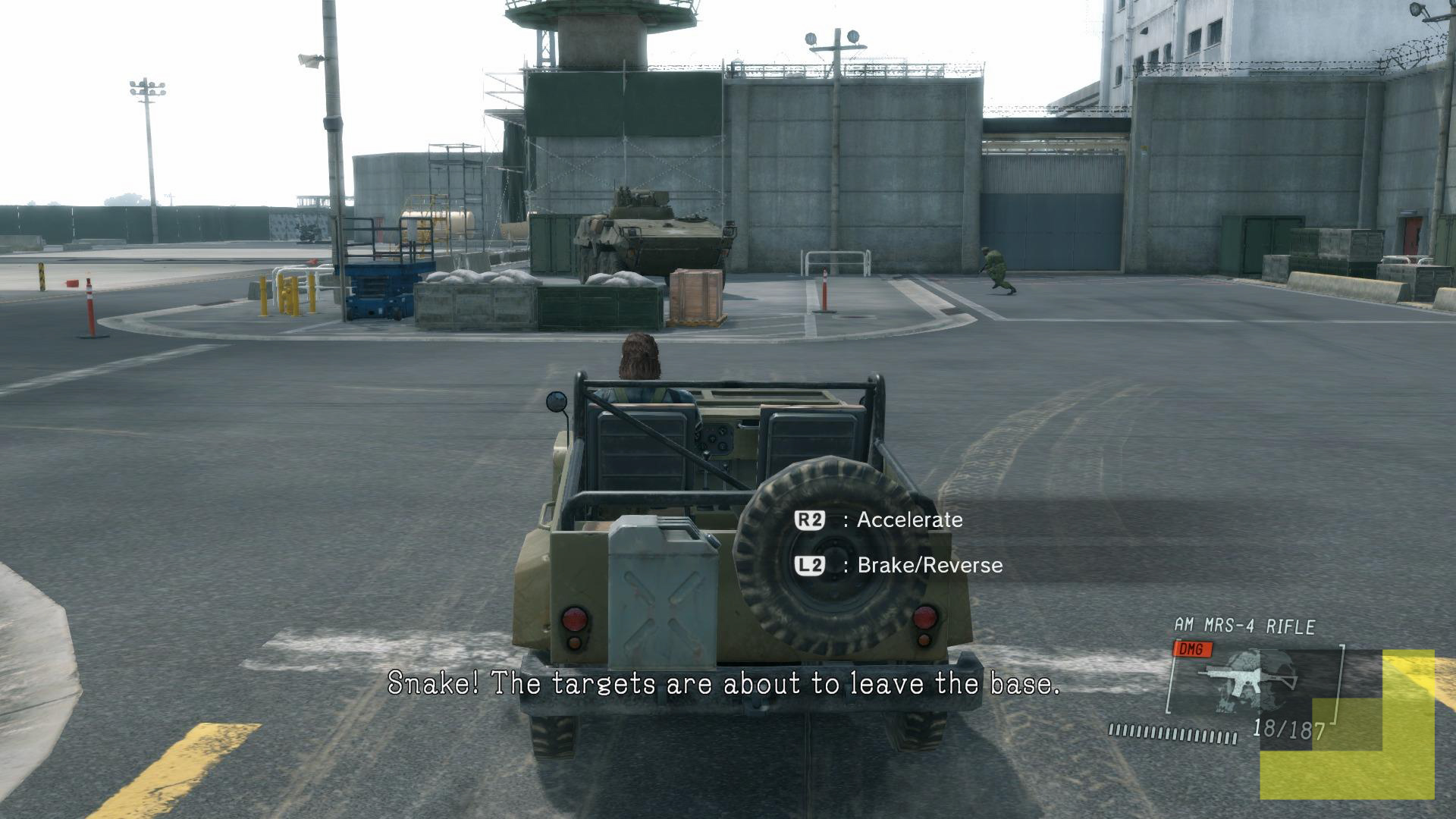 Vehicles, Unfortunately you won't be flying around A-10's or UH1's but lucky enough to fool around with Jeep alike SUV, Armored Truck and Armored Personnel Carrier (APC Tank) pretty much I lost the track of the time playing with those games since the map itself is not to big but I enjoyed crushing soldiers and restarting the mission. Only if the Map was big enough to roam around the entire day. The Movements, Sound, and Drivability of Vehicles were Authentic enough similar to Mercenaries if it was on a Next-Gen console, Not something Great but Definitely fun.
Map, Only One map is being shown in entire game whether it's Main Story mission or Side-Ops mission since the game's specific map has been providing the base to the Ground Zeroes' storyline and the environment including day/night changes, Natural movement of Plants and Physics of Ocean are far better than average characteristics of Authentic Map.
Graphics
First off, Next-Generation graphics (Aadi!) many believe that consoles such as PlayStation 4 and Xbox One can run great games with great graphics on 60 FPS, helps developers to code and render games in deeper way, let's not forget the part of developers team which includes depth of a map, vehicle, environment, 3D Objects etc..Yes, The console has made it easier for dev's to take it to next-gen level but remember the effort of a developer.
Second important thing, I have tried the game both on PlayStation 3 and PlayStation 4′ Can easily say that they have worked hard on both versions of game since the graphics do not lack too much, just the mutual difference due to performance capabilities of each console. the smoothness of Hair, outline of objects requires a bit special attention..few things hopefully will get better in the complete version rather than in this Prologue which cheers me up since I literally don't remember "Which Metal Gear game I haven't played?"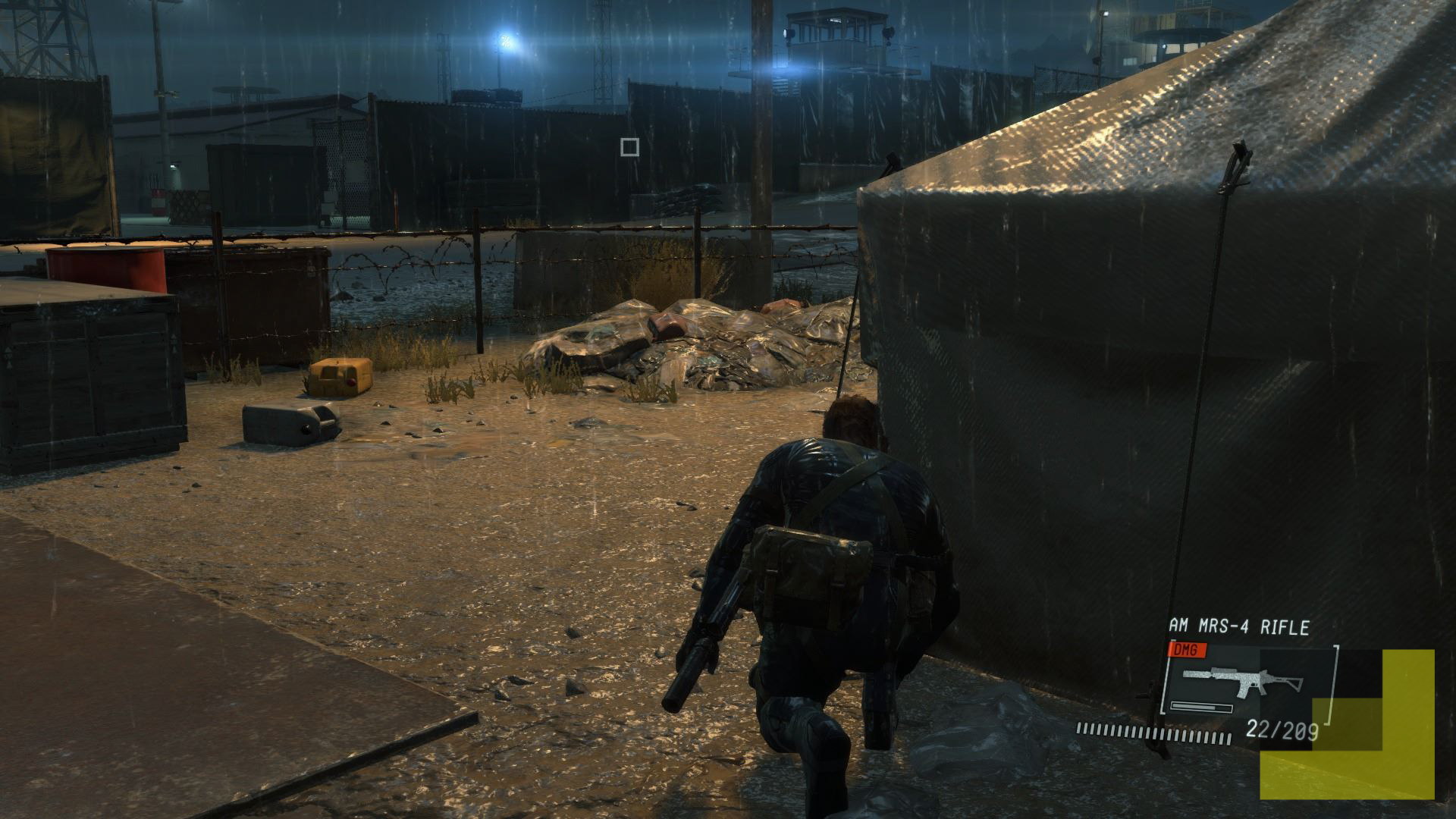 In Addition, Personally speaking..I Love the astonishing Artwork/Graphics in the time of night! when everything you see or hide at seems so much more sophisticated including flood lamps and shots you fire..
Music
Hmm..Not much in this part but One thing I do know is the Walkman has better musics from classics "MGS" then the new music that has been added to this particular part of the game which is rather a annoying song to be honest..does not really match the theme of a game perhaps a documentary about MIA (Missing in Action) or a Movie scene with soldiers dying would be suitable. I still enjoyed the previous installments music that was added to the music player of Ground Zeroes. In my Honest Opinion, Games like this suits more of a Rock or Orchestra sort genre.
Next: PlayStation 3 vs PlayStation 4 Side-by-Side comparison > MGS V: Ground Zeroes Video Review