This year the introduction of Kojima Productions' Fox Engine has improved Konami's game in many areas compared to PES 2013. True Ball Tech promised realistic ball physics, and the PES team has mostly delivered on that front. No matter what support settings you're playing on, short and long passes are a joy to execute. The level of success varies depending on your skill and the player you're controlling, but that's how it should be.
PES 2014 plays an excellent game of football, and when it all comes together even other football games can't compete in terms of sheer satisfaction and joy. Often the ball will behave just as you'd expect, powering or curling its way towards the goal. On other occasions, you'll feel like your shots have no real weight or power behind them at all, despite your intentions. On occasion, some shot types, volleys for example, will take a strange trajectory towards the goal.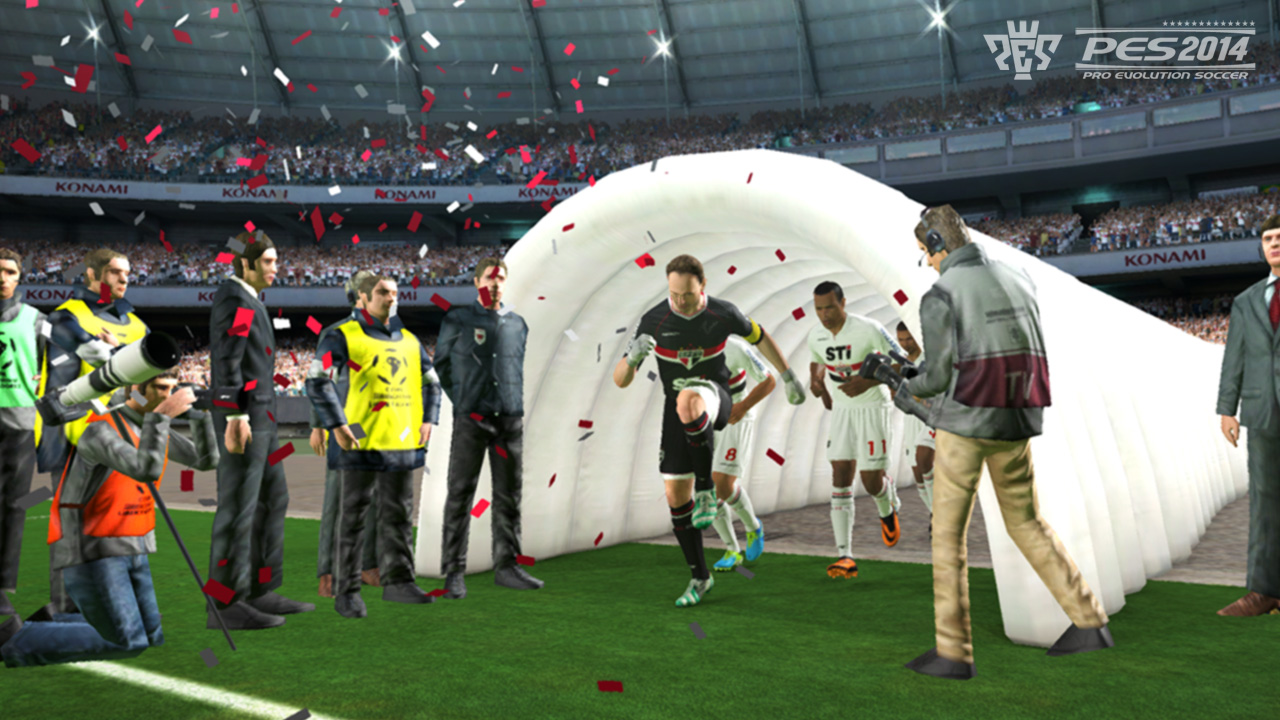 PES 2014 is an odd beast, a strange hybrid of its straightforward arcade roots. Never has a PES game looked quite as realistic as 2014 does. And for the most part, it plays well too.This is a step forward for the PES series.The physics-driven animation system is superb – there are countless ways in which players bounce off one another or shift their weight between their feet that look almost real.
In fact, it's just a learning curve rather than something rotten within PES' core. Studious use of the run button makes dribbling different, but now even more effective. It's all about judging and reacting to sways in momentum, rather than belligerent sprinting. Players being hassled by tenacious opponents will struggle to act with the same speed as those in open play, too, so it pays to know when and where to attack.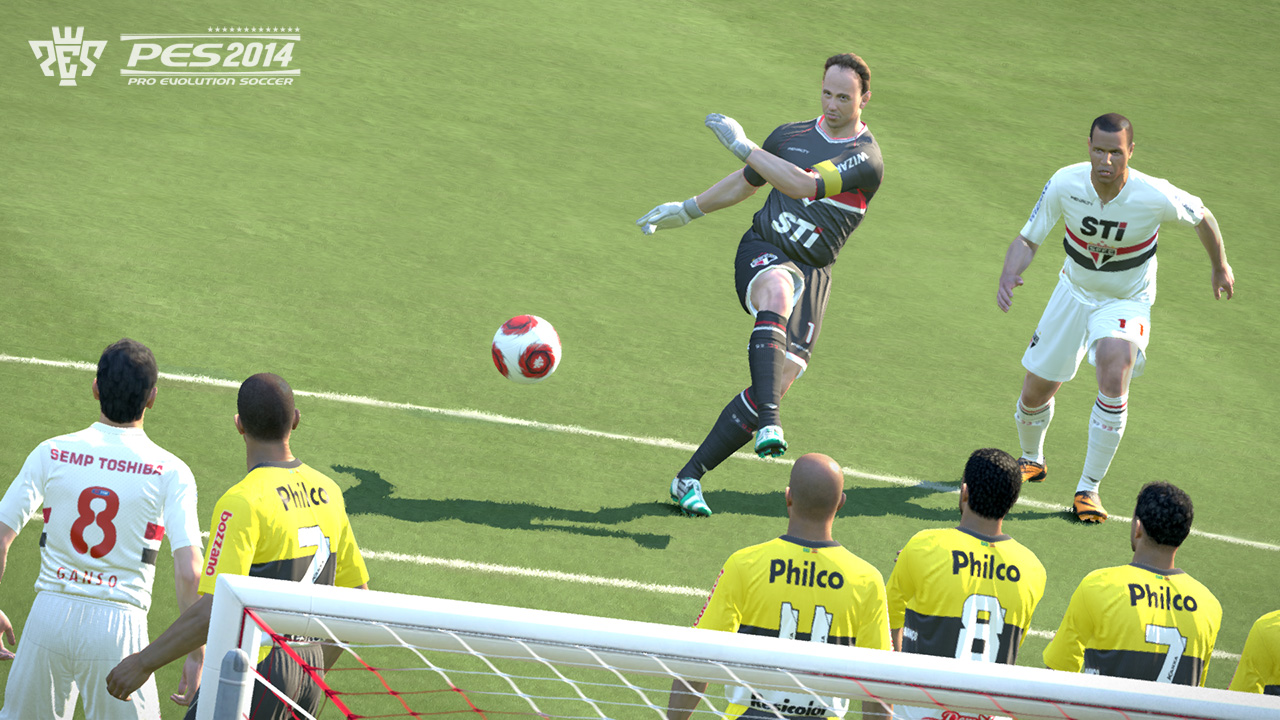 The visual side of PES 2014 is, in fact, at another level compared to its predecessors. The difference is night and day; player models, stadiums and crowds all look wonderful. For the first time in this console generation, PES actually looks better than any other football game.
The new Heart system is another excellent addition. Designed so that the actions of players on the pitch have an impact on individual and team morale, its inclusion isn't entirely evident at first. However, go through a Master League season and you'll definitely notice the effect. A life-saving tackle, an inspiring shot or a moment of crowd-pleasing flair can boost your team's morale, giving you a better chance of scoring more or coming back from a goal down.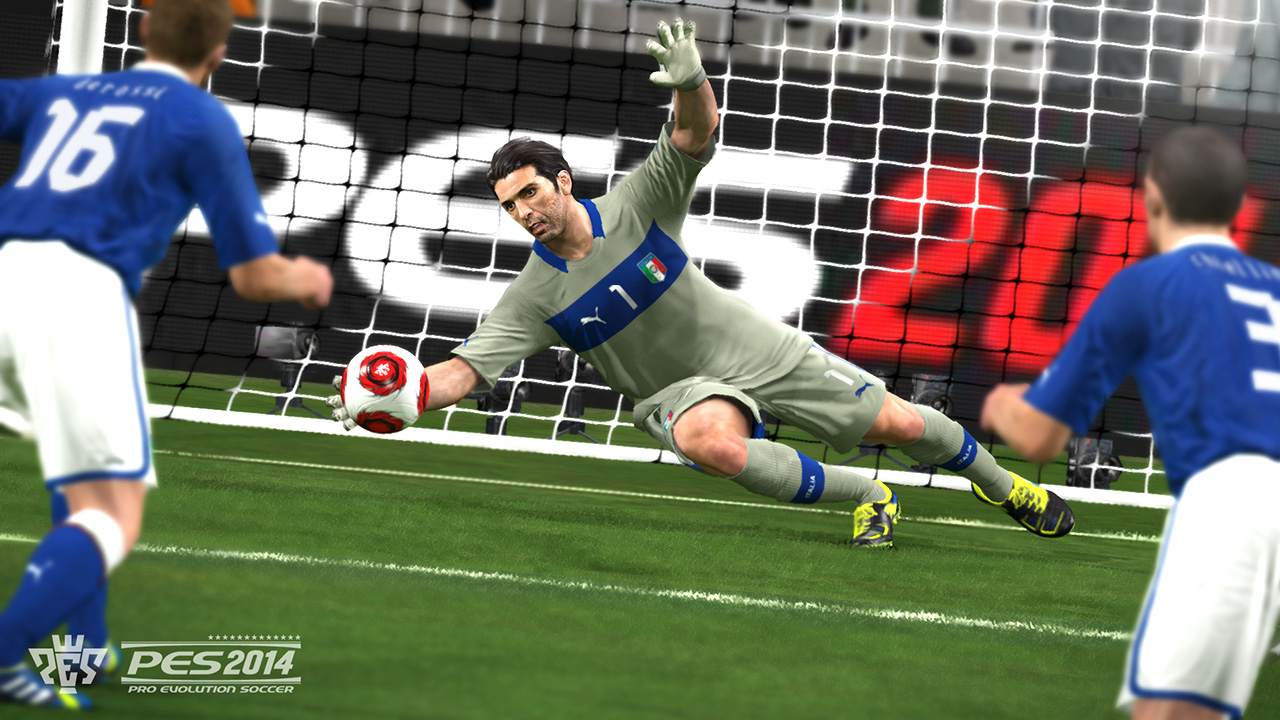 In terms of defence, the introduction of a new animation system and ball physics means that when you go for a tackle you'll more often than not go for the ball rather than the player. Holding off and timing is still everything, so if you happen to just go for it you won't get very far. The slightly improved performance training mode is your friend here, as it will teach you all the basics of defending.
However, shooting is sometimes hit and miss. Often the ball will behave just as you'd expect, powering or curling its way towards the goal. On other occasions, you'll feel like your shots have no real weight or power behind them at all, despite your intentions. On occasion, some shot types, volleys for example, will take a strange trajectory towards the goal.
That much is clear as soon as you start passing the ball around. Where PES has always been about snappy passing and a feeling of direct control over players, 2014 adopts the automated nature, but without the technical prowess to back it up. A lot of it is down to AI implementation, which means that passes often don't go to the player you want, because the game makes the decision. The first touches are more realistic representation of how players perform in the real world.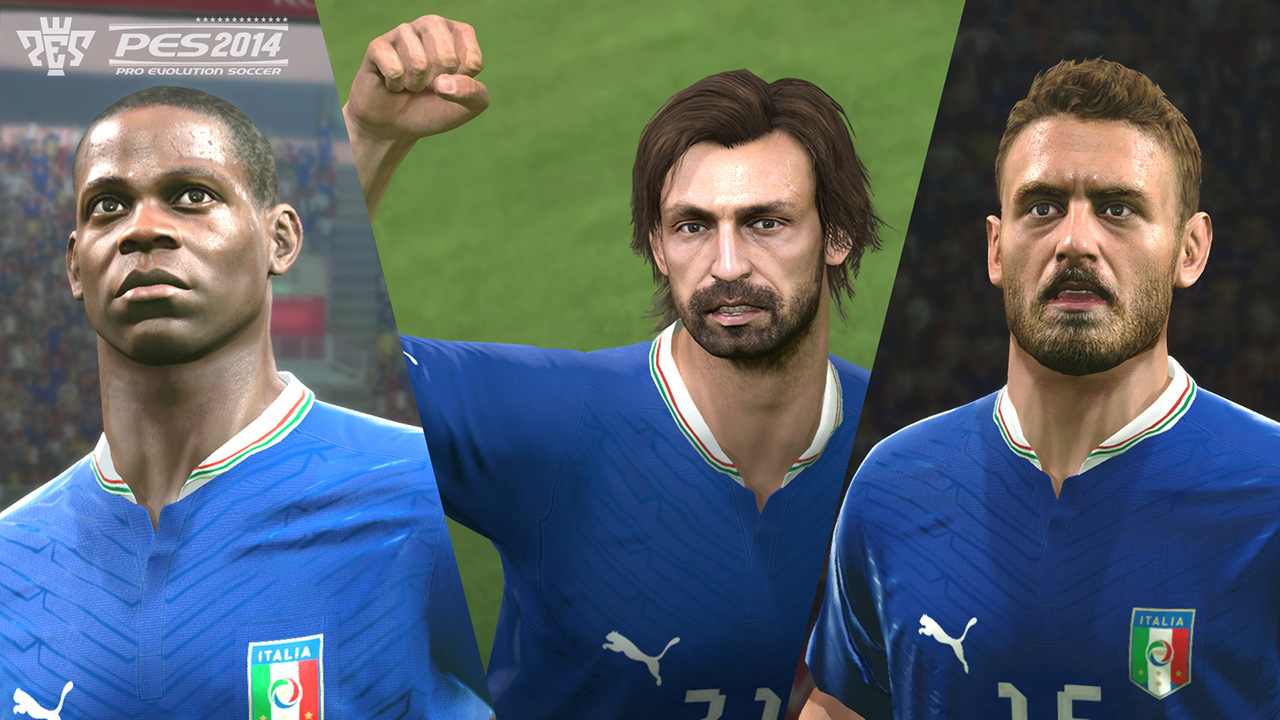 When it does all come together, though, PES 2014 can be a wonderful thing. Zipping down the right wing to launch a well-placed cross, or ducking through the midfield with a killer through ball, is nicely fast-paced and, at times, edge-of-your-seat thrilling. Finishing those maneuvers remains as tight as ever, with a real feeling of control as you expertly blast a shot past the keeper and into the top corner of the net. The excellent jockeying and tactical positioning in defense, the dribbling system, and the shot modifiers all make a welcome return, too, with improved player-contact animations seeing players fight for the ball–and lose it–in a much more compelling way than before.
PES 2014 certainly looks a little sharper than previous PES games, but don't expect a huge graphical overhaul here. Instead, the focus is on player emotions, with new facial animations resulting in some uncanny representations of joy, despair, and frustration as keepers are beaten, posts are hit, and off sides render a once-beautiful goal meaningless. Sadly, the frame rate takes quite a hit during these moments, as well as during match buildup and replays, which is incredibly jarring against the otherwise smooth play on the pitch.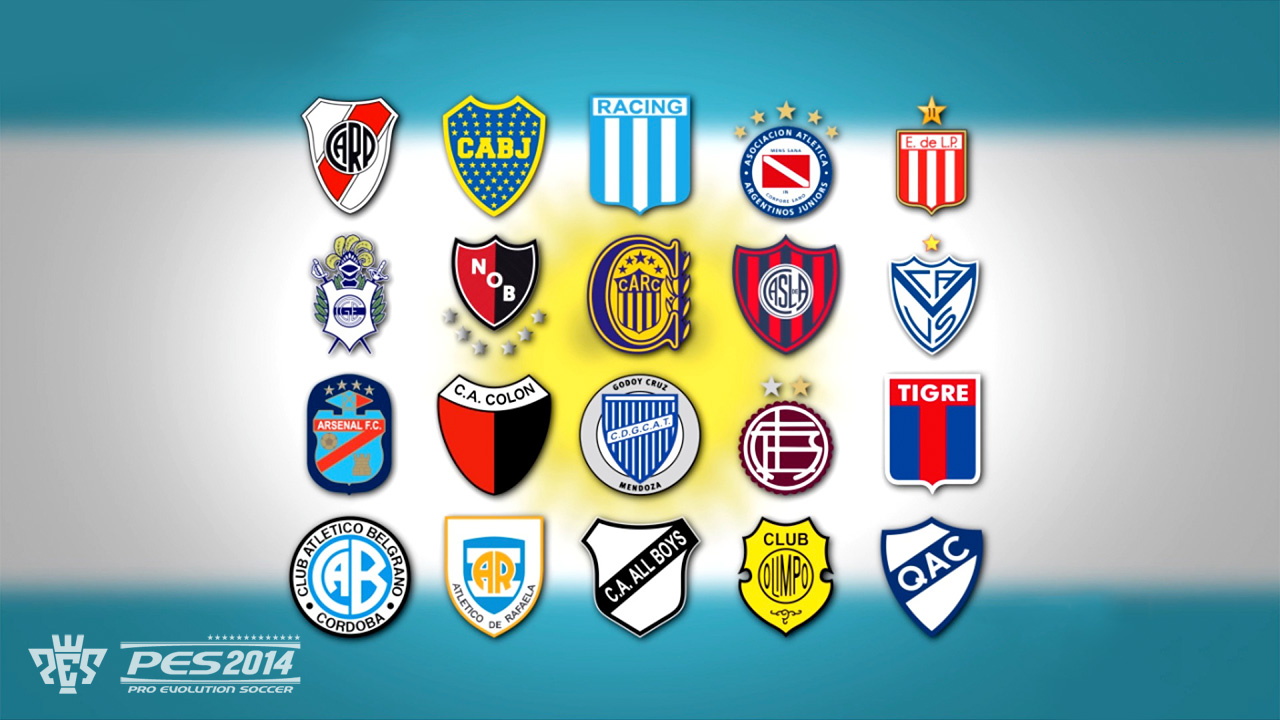 Many of the modes remain unchanged from last year, including officially licensed tournaments such as the UEFA Champions League and South American Copa Liberators tournaments. The new addition is League mode, although it too remains largely unchanged from the version in 2012. (It was not included in PES 13.) Master League Online and Become a Legend do see some tweaks, including the ability to pick from three different playable leagues in MLO, each with a different attacking and defending style, and the option to play as a keeper in Become a Legend and bark orders at your team from a far.
The objective in MLO has switched from trying to create a profit to concentrating on building the best team with a fixed budget. Other tweaks include the ability to manage national and international squads in the Master League, as well as use players created in Become a Legend in online matches. None of these tweaks make these dated modes any more compelling, and they absolutely pale in comparison to the likes of FIFA's huge online leagues, EA Sports Football Club, and Ultimate Team. In a feature that has been a long time coming, you can at least now play in full 11-vs.-11 matches online.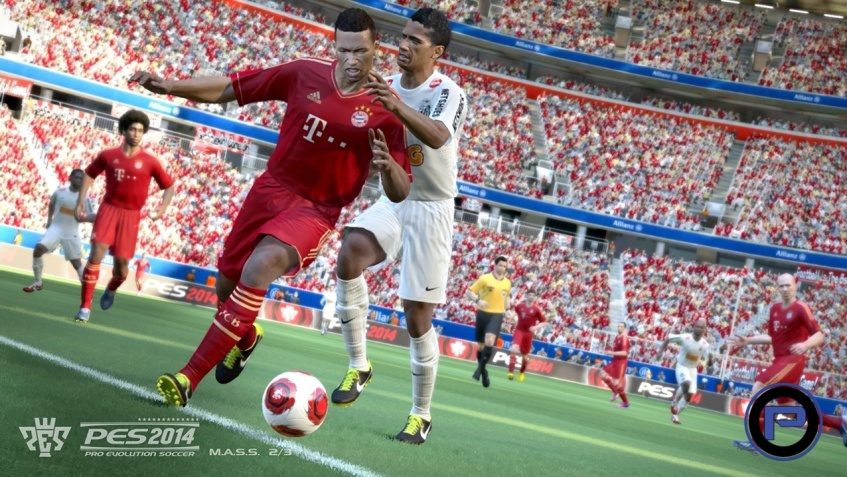 Crucially, though, that intangible PES magic remains and expands with the potential of the new engine; matches take on their own personalities (helped by new player emotions – perform well and your play will visibly improve during the game) and you'll discuss great goals for years, especially now that shooting and heading are weightier, more natural feeling. Even Master League is better. Streamlined and slicker than last year's bizarre cut-scene driven noise.
Where PES 2013 could not get away with some less-than-stellar modes, PES 2014 can thanks to some excellent on-pitch action. There's still lots of fun to be had blasting goals out on the pitch and taking on friends online, but not as much fun as last year, despite some additions that should have made it more so. The new menu system is easier than its PES 2014. The commentary and music is the same like its predecessor. This is a game that tries to straddle the line between arcade action and sublime simulation. PES is at its best when it's selective with its realism, we are hoping next year it can do even better.
The move to new technology has allowed Konami to deliverer a strong and slick simulation, arguably its best on current consoles. This is a valiant first effort of what can be done with the Fox Engine, but the series has even brighter days ahead.