We have a lot of things to get off our chest before you doubt to buy the game or not. Let us start with this question, are you a fan of WWE? If you are, I definitely advise you to get this game because you're missing a greatness! Big time, In this review – I am going to describe that why I used the term "Greatness", As one of my colleague said in previous instalment of WWE game "Preview versions indeed made me very excited" and now I don't know how to wake him up, he has been in coma ever since.
How's the gameplay?
WWE 2K15 is a wrestling game that plans to take the wrestling game to whole new level especially since 2K has started developing it since 2013, The game is so realistic that you almost feel like you are spectating a real WWE match. The first thing you should try is to create your own WWE superstar in 2K15, which opens a lot of features and incredible amount of physical contents such as "Body Art". However, some of them could be in greater amount of choices like hair styles and of course the face moulding! including 4 types of body filling such as buff, lean, fat or slim. we hope to see more optional choices from developers.
Before starting the match whether it's a one on one or 6 man, you can adjust pace of the match to suit your playing style whether you want it to be fast or slow, fast is my playing style so I opt out for that and I quite enjoyed the fun factor as fast movements with great sound effects can blow your fun factor up the roof.
By pressing the button in the beginning of the match you will start grappling and locking each other, the first person who acts faster than other opponent will get the wrist or elbow locking position, by the time each player gets a limited interval to find the AI's weakness point by turning the six axis around. In the left & right down corner you will see stamina meter which provides you with helpful information such as stamina, hurt indicator, momentum bar.
As fighting with your opponent by each move, you can check the impact of your hit on the body by checking the stamina meter and as a human, you have a level of energy so will your muscles have a breakpoint, if you made it to the third part, you can see that your movement and attacking impact is slower than the first round.  this is due to your level of energy is getting lower just like real life, quite authentic. eh? philosophically, it's the matter of time to be undefeated or not to be.
If you're not that fast in the game and you got pretty bad kicked you can use escape the ring to protect yourself from opponent's opportunity to hit you. There is a simple rule in this game to become the "Champion" think fast, act fast.
How does it look and sound?
By comparing the 2K14 and 2K15 you will see a lot of improvements. Starting of with the character's of wrestlers, As we tested the game on PlayStation 4 running 1080p resolution at 60 fps, you can see that a lot of work has been done to design the characters; when compared to its previous installment, it actually is as same as the real character itself except summer rae [she is quite an exception] and when you do move you can see the muscles flexing replicating the real human body..
In the arena you will find a TV above the entrance which shows the real WWE related to the same match just like any other WWE video game installment but only this time, you sort of realise that it goes with the entire theme in terms of authentic graphics and lighting effects around. As you are walking down, you will notice your hardcore fans that are talking and once you enter the ring, you can spot your footsteps will affect the ground, so will your shadow get changed with direction of the light.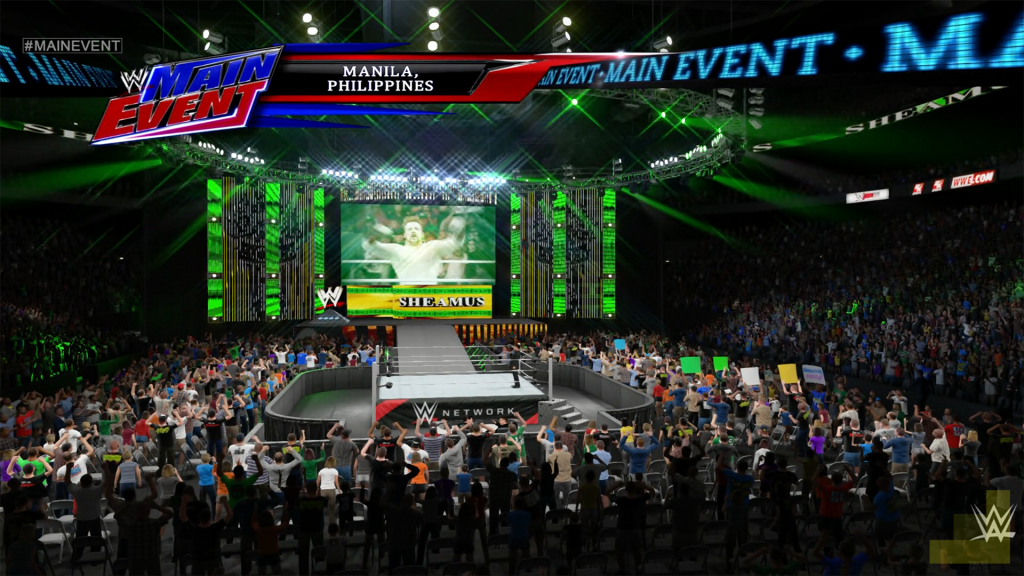 Irish whip to attack your opponent? You can see the force that made to the ropes in terms of physics and there is nothing wrong with arena rope except one thing that we will refer to At the end of the review. PlayStation 3 version of video games run on 720p resolution with 30 fps and the difference between PlayStation 3 and Next-Gen console is not that noticeable in terms of dedication and hard work that yukes and 2K put into but PlayStation 3 version also can stand against the current installment in terms of graphics and hardware capability.. that's how much this team of developers put their work into, making current-gen consoles stand up against next-gen.
On the other hand, it's time to see what has been done for sounds, personally we started downloading the tracks played in the background, as they were cheesy and catchy that we could not stop ourselves and that we ended up making a custom playlist for the gym [Hey! these are darn good songs..] the beats and selections of the songs are insane! 2K15's playlist including NBA and WWE as well, both have great mix of music. we loved wrestling and hustlin' with the dope beats!
What could have been better?
Firstly, Loading times – we played WWE 2K15 hardcopy on PlayStation 4 and what came to our attention was annoying loading screen that couldn't load when our internet connection was interrupted, if this issue could be resolved by any means..it could be a less annoying, as I like to keep my consoles not connected to internet at most since I'd use a lot of other devices.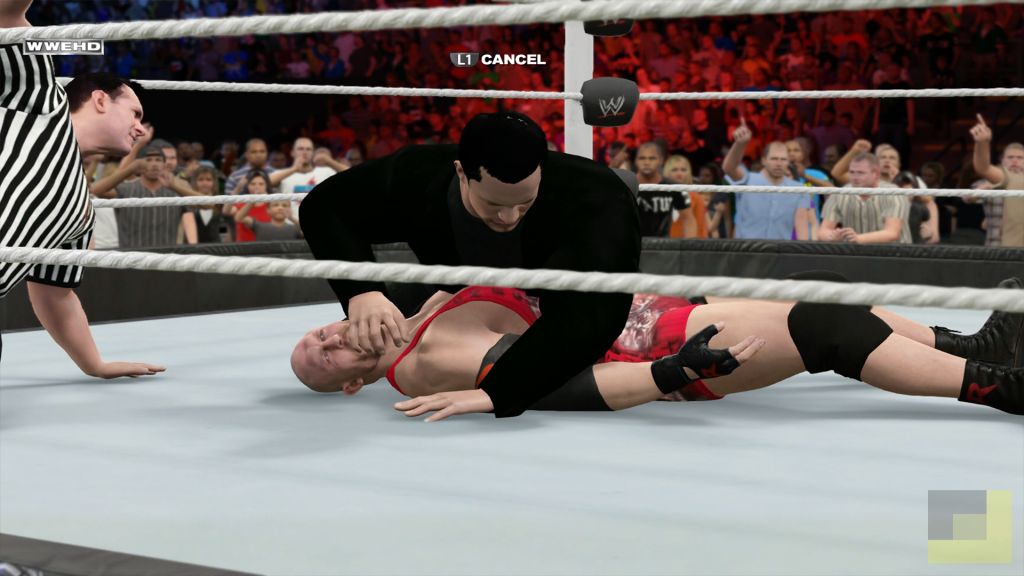 If you play the game in the hardcore way and throw something from outside the Ring on your opponent you can! But here is the problem the objects could go thru the ropes [Brain power!] and they won't bounce off the rope, which isn't realistic and to us, it is a bug that should be fixed in the upcoming update. another issue is, Try dropping a baseball bat in the ring and take a good look at the shadow of the baseball bat, the shadow will not look authentic..in easy words, it's like the bat is in the air, we won't call this a bug actually but a small error can make a huge difference. well, speaking of the graphic and physics; the character for say, when fandango holds the hand of summer rae it clearly displays as the object is a bit floaty and makes them look like a fake barbie doll bought of the ebay which could affect the user experience if played with strong focus point again it sort of resembles with the baseball bat issue.
Verdict
As we started playing, we didn't notice the time passing by and we were forced by our brain to play more and more matches! Yes, the game is awesome but not the best that 2K can come with, there is still room for improvement, so does the other games but the amount of changes that has been done to the game is truly deserving for both user and developer team!