Saudi-based "Yasmeen Mohsin Al Shyoukh" is the Rising name in Pixel Bead art industry alongside full-time employment as Corporate Communications Officer, Who got her Bachelor of Mass Communications: Public Relations degree from the American University of Sharjah in United Arab Emirates is "Gamer Gone Artist" since 2012 who goes by the username @Yasichu_Pixels on Instagram!
Q) Are you a video gamer? If yes, what games do you prefer to play.
A) Yes, I am a video gamer. I have been a gamer since I was a little kid, I like all kinds of genres except for horror! My favorite game is Metal gear solid, I fell in love with it, when I first played Metal Gear Solid 1 on PlayStation One, Ever since then I've been a huge fan and did not miss a single game in the series. In specific: I also play action-adventure and sometimes RPG, and times when I don't game on my Xbox One, I play games on Nintendo 3DS.
Q) What made you work in such a passion and time consuming activity?
A) I Enjoy crafts and video games in general but I was seeking a hobby that can have these both elements which I can truly enjoy…I tried beading the first time in 2012, I remember making Batman's logo, It was fun and challenging – so I decided to make different designs and year after year, I began to make larger bead sized artwork of comics and games I like.
Q) Do you consider this as Job or side activity?
A) I started bead art as a hobby because I enjoy beading so I consider it as a side activity besides my everyday job.
Q) Does your family support you in such activity?
A) Yes, They do! My Family is a significant supporter of my hobby, they have always encouraged me to participate in conventions.
Q) Do you sell these art? If Yes, What are the Prices, and How much artwork do you sell?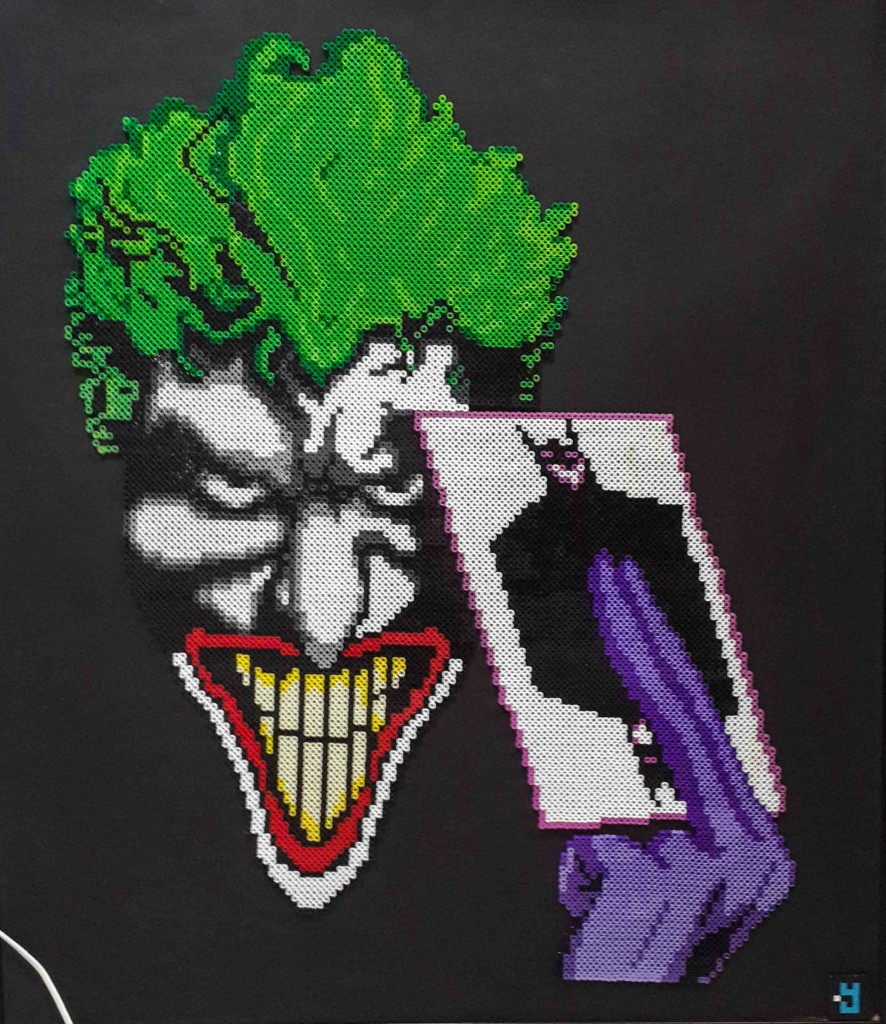 A) I only sell my art, If I receive requests but I don't have intentions of promoting my work commercially. I consider my art as hobby which I'm doing because I enjoy, and will try to keep it this way. Prices of my art range varying on the sizes available, they start from 40 AED to 500 AED, the bigger it is, the more it will cost plus the personal time I spend working on it along with the quantity of beads I use to make it happen! (In Addition: It reaches thousands of beads per art piece)
Q) Have you considered participating in Middle East Film & Comic Con? If yes, why not.
A) I've been part of Middle East Film and Comic Con for the past three years now, I was encouraged by my friends and family to be part of it and to share my work with everyone, It's part of the fun!
Q) What do you think lacks in artistic segment of Middle East?
A) From what I noticed, a lot of artists care about what others' think of their work or want to see from them instead of making something they actually want. I got a lot of questions in exhibitions such as "If people actually like my work, If I have fans since it's not typical.." also a lot of people kept suggesting that I do traditional designs in pixel beads because it's more related to our culture. I appreciate their comments but in the end "I try to make something that represents myself as an individual and keep true to myself".
Yasmeen also quotes "Art should have no limits..it doesn't have to be typical to be acceptable so what's lacking is an open mind to accept other forms of art"
Q) Explain Gaming in Middle East.
A) A lot of us grew up as gamers so the gaming community in the middle east is huge..it was always easy to find consoles and video games but there are more demands now in the gaming market which makes it difficult to find what we are looking for. A lot of people are joining the gaming community so the gaming market should grow as well. The gaming community in the middle east is finally getting an attention…many gaming related events are being held annually in the GCC and games are being translated to Arabic which is a huge step for gamers in the middle east.
We Respect, Admire, and Support such a Dedication shown by Yasmeen Mohsin Al Shyoukh. Keep doing the best you do!